Ambiki's EMR is Here!
For therapists. Built by therapists.
A HIPAA compliant platform perfect for any pediatric SLP, OT, or PT looking to grow their practice. Designed with the needs of therapists, practice managers, and clients in mind.
Everything your business and therapists need, all in one place
As the decision maker of a small to medium sized therapy practice, you know how important it is to streamline your business and increase efficiency. That's where Ambiki comes in. Our all-in-one platform offers everything your business and therapists need to succeed so that you can focus on patient care.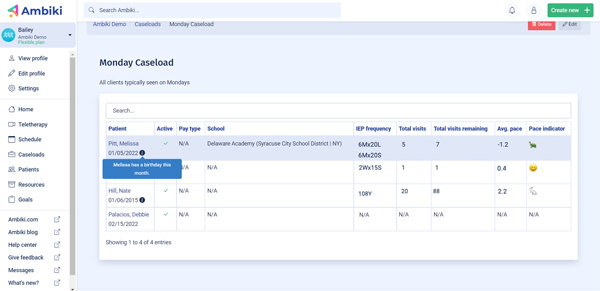 Billing and Payments

Insurance billing
Invoicing
Double-entry accounting ledgers
Organization payroll (coming soon)
Patient payments

Clinical Documentation

Custom forms/templates
Discharges
Evaluations and assessments
Physician orders (coming soon)
Plan of care (POC) and goals
Progress reports (coming soon)
School plans
Electronic signatures
Visit notes

Patient Management

Alerts
Intake documents (coming soon)
Patient/parent communication
Patient profiles
Patient portal

Scheduling

Caseloads
Pacing
Schedule and calendar

Administrative Tools

Audit tools (coming soon)
Credentialing (coming soon)
Electronic faxing (coming soon)
Mileage (coming soon)
Organization dashboards
And so much more!
Manage all of your client needs, in one convenient space.
HIPAA Compliant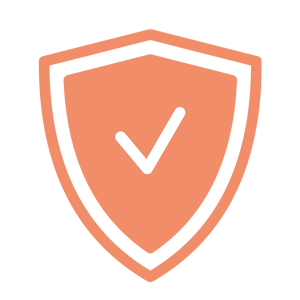 Built by Therapists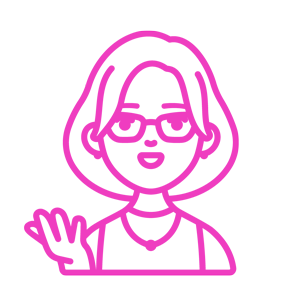 Seamlessly Integrated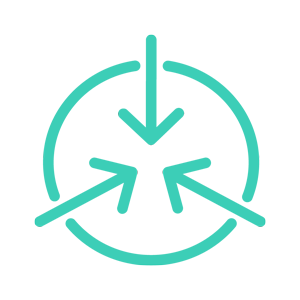 Billing & Payments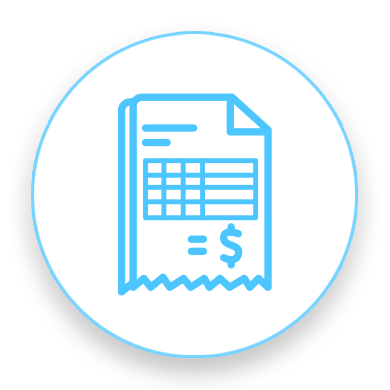 Take the pain out of insurance billing and invoicing
Ambiki makes insurance billing and patient payments a breeze. Our platform helped Sidekick Therapy Partners reduce write-offs to zero and improve their cash flow by reducing the average time from visit to payment by 17 days. With Ambiki's comprehensive financial dashboards and double-entry accounting its easy to manage the financial health of your practice.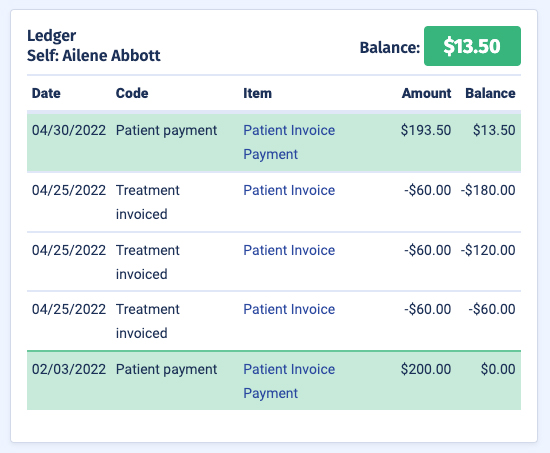 ---
Spend less time planning and scheduling
Ambiki's schedule feature provides an easy and intuitive way for therapists to manage their busy days. Ambiki's interactive calendar system helps automate the process of creating, maintaining, and revising events scheduled for therapists and employees (both single and recurring events). Our goal is to give you time back, to focus on what really matters: treating your patients.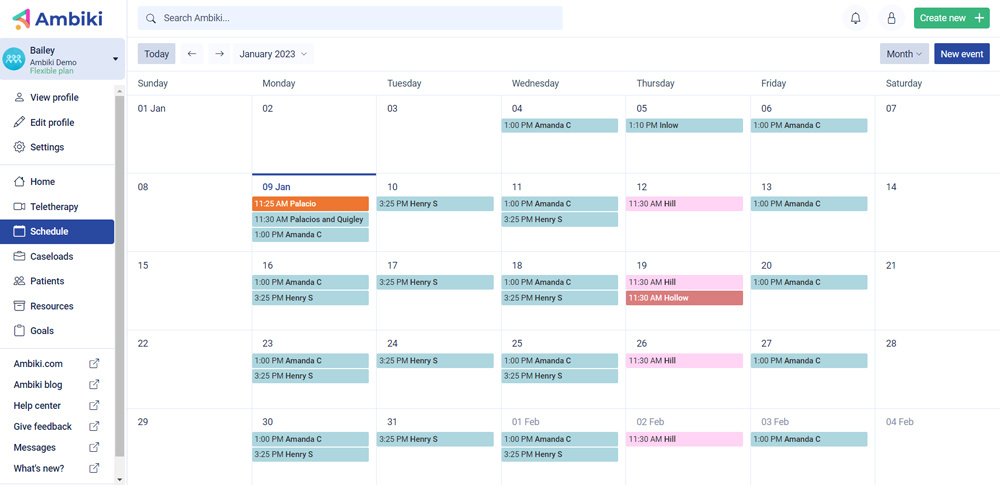 Scheduling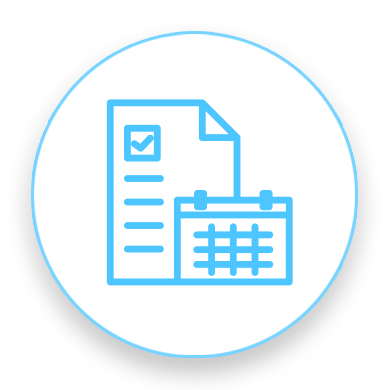 ---
Clinical documentation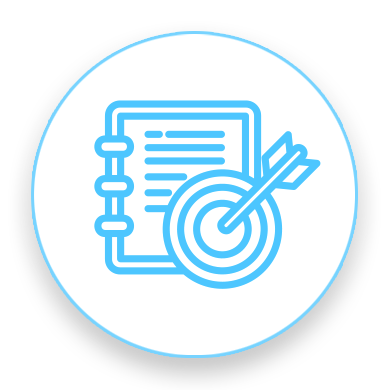 Tailored to the needs of SLPs, OTs, and PTs
Therapists love our clinical documentation tools. Built by therapists, these tools make it easy to track the progress of your patient from evaluation through discharge.
Evaluations
Assessments
Plan of Care (POC) and integrated goal bank
Progress reports
Visit notes
Discharges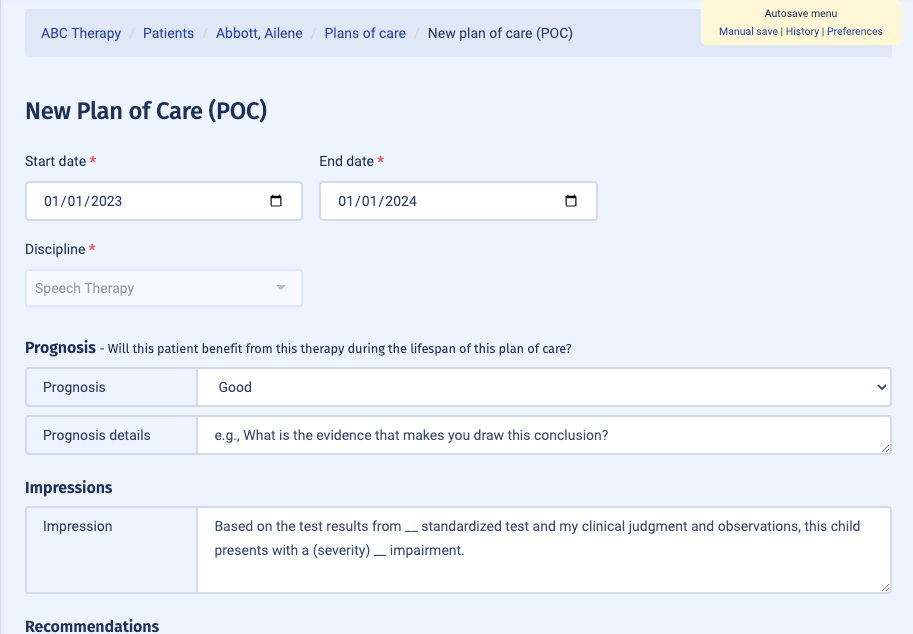 ---
Easily manage large caseloads
Ambiki allows therapists and administrative staff to access and update important information about their patients in one convenient location. Ambiki patient profiles include a system for tracking a patient's status by discipline and setting. This helps to streamline care delivery and ensure that patients receive the support they need.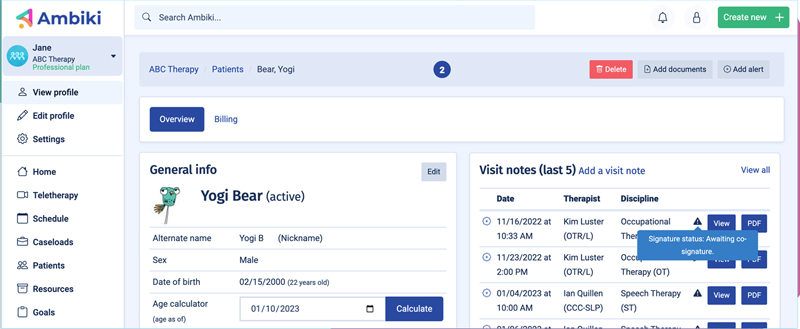 Patient management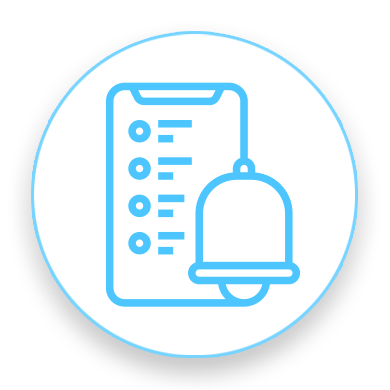 Start your free Ambiki trial today the platform tailored specifically to the needs of SLPs, OTs, and PTs.