Ambiki EMR - Pacing™
Pacing helps to calculate remaining visits as well as a therapist's current pace to meet visit mandates.
About the Pacing Feature
Automatically determines the therapy duration and frequency interval that your client needs.
Automatically calculates school plan expiration dates.
Pacing helps you plan remaining visits and shows you your current pace to meet visit mandates. The pacing indicator provides a visual way to convey that you are on track:
🐇 Ahead of pace
😁 On pace
🐢 Behind pace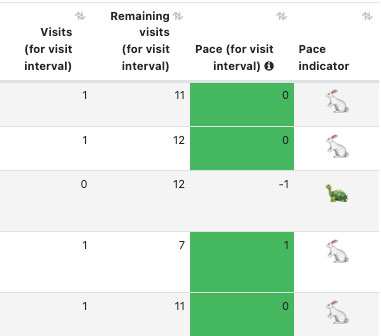 Ambiki's EMR is here!
For therapists. By therapists.
A HIPAA compliant platform encompassing Teletherapy, an Electronic Medical Record system, a Resource Library, and so much more!
Manage all of your client needs, in one convenient space.
Enjoy 30 days of Ambiki's EMR on us.

Start your free Ambiki trial today the platform tailored specifically to the needs of SLPs, OTs, and PTs.