Ambiki EMR - Patient Profiles
All of your patient's information, all in one place
More than just a profile
Track patient status for smooth communication across your team and view patient alerts
View expiring documents at a glance
Use the communication log to document communication between clients, parents, teachers to keep everyone on the same page
Integrated Session Planning Tool to create detailed session plans tailored to your clients goals and interests
Access plans of care, discharge notes, and patient documents all in one convenient location
Upload patient documents in a variety of formats including .doc, .docx, .ppt, .pptx, .csv, .xls, .xlsx, .pdf, .gif, .jpg, .jpeg, .png, .mov, .mp4, .wmv, .webm, .mpeg, .m4a, .wav, .mp3 and .ogg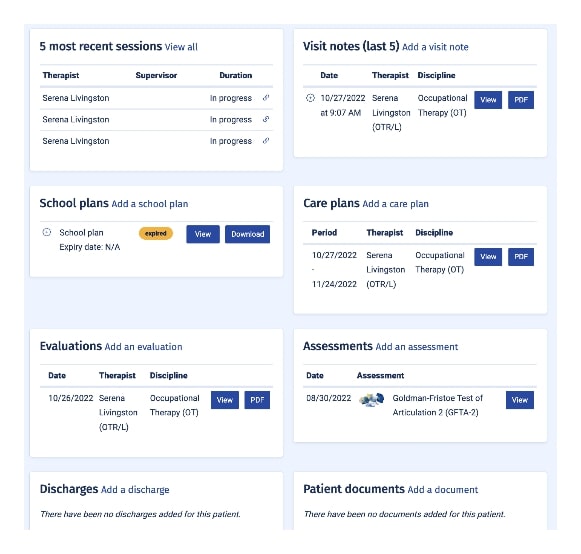 Coming Soon...
Integration with the Ambiki Patient Portal to make completing intake forms a breeze
Quickly see metrics on past visits, no shows, cancellations, and outstanding balances or missing claims
Ambiki's EMR is here!
For therapists. By therapists.
A HIPAA compliant practice management system with a built-in pediatric teletherapy platform, session planning tools, and so much more
Manage all of your client needs, in one convenient space
Enjoy 30 days of Ambiki's EMR on us

Start your free Ambiki trial today the platform tailored specifically to the needs of SLPs, OTs, and PTs.