Ambiki EMR - Schedule
Are you tired of all the wasted time that goes into scheduling? Get your time back, so you can focus on what matters: treating your patients!
About the Schedule Feature
Includes an interactive calendar system that will automate the process of creating, maintaining and revising events.
View, create, delete and cancel single or recurring events.
Track patient attendance.
View and seamlessly adjust any events that conflict with another event.
Start a teletherapy session directly from an event.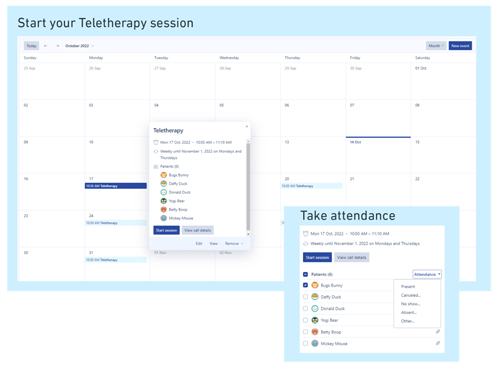 Coming soon...
Multiple schedule calendar views to see daily and weekly views
Filter the schedule calendar by patients, dates, employees and location
Easily manage multiple employees schedule.
Navigate schedule changes and caseload transfers.
Ambiki's EMR is here!
For therapists. By therapists.
A HIPAA compliant platform encompassing Teletherapy, an Electronic Medical Record system, a Resource Library, and so much more!
Manage all of your client needs, in one convenient space.
Enjoy 30 days of Ambiki's EMR on us.

Start your free Ambiki trial today the platform tailored specifically to the needs of SLPs, OTs, and PTs.